Probiotics are beneficial bacteria that occur naturally in the human intestinal tract. Foods "cultured" with beneficial strains of probiotics such as yogurt and kefir have been used throughout history to improve overall health and vitality, and today, there are many studies reinforcing probiotics' ability to balance and promote digestive health.
Probiotics also play an important role in modulating the immune system, 70% of which is located in the gut. The word "probiotic" means "for life", "antibiotics" means "anti life". I cannot emphasize enough the importance of healthy gut flora. The benefits of probiotics don't end there, in fact many have reported the disappearance of acne, better skin texture, better hair, the halting of male pattern baldness, ending Candida, even Fibromyalgia, migraines were stopped, and allergies and inflammation reduced by having good gut flora.
"Why take probiotics daily?" you may be wondering. Well, our modern/civilized life has been detrimental to healthy gut flora. Refined sugars, adulterated grains and foods, chemicals, medication, fluoride and chlorine in drinking and cooking water, pasteurization of milk, amongst many other factors can kill off good gut flora and/or allow less-beneficial and sometimes harmful bacteria to take over. Further, many of us also do not eat fermented foods such as sauerkraut, sourdough, kimchi, kefir, old fashion pickles, old fashion apple cider vinegar, etc.. I will address this question in future posts more thoroughly.
Many probiotic products exist, unfortunately, not all probiotics are equal, here I will list the best probiotic products, based on my research/opinion.
You may think that in order to get the greatest percentage of active (live) cultures one should buy probiotics that require refrigeration. However, this is not always the case. These probiotics need to travel and survive the journey through your stomach acids. Also, remember, more strains doesn't mean "better". Some of the best probiotics have 8, 9 or even 4 strains. Sometimes a single-strain solution is best.
I've looked around for the best multi-strain probiotic products that have the best strains, this is what I came up with:
Note: My top 4 are interchangeable. Try one for a month, if you do not see results try another from the top 4. One of these will likely work for you. If not, you have two choices you can try the other good ones listed below or (and I encourage you to do this) scroll all the way down to read about using a single-strain probiotic. Probiotics, like anything ingested produces different results in different people. .
Here are the best:
The Top 4:
1- Dr.Ohhira's Probiotics 12 Plus
Dr. Ohhira invested years of testing on subjects and came up with a non-refrigerated probiotic supplement line.
Renowned microbiologists, lichiroh Ohhira, Ph.D., and scientists from Okayama University combined ancient Japanese fermentation skills with modern technology to create this unique beneficial product.
This one has twelve (12) strains of lactic acid bacteria, including powerful proprietary TH10, are used in a complex 3-year fermentation process. The nutrient rich cultures medium (an optimum natural pre-biotic) composed of vegetables, fruits, mushrooms and seaweeds is encapsulated along with the live lactic acid bacteria. The probiotic system also includes organic acids naturally produced by fermentation. These important substances create the proper GI environment in which all the body's unique blend of hundreds of strains of friendly bacteria can flourish.
If benefits are desired in the stomach (e.g. heartburn or an unsettling meal) the capsules may be chewed. Temporary reactions such as minor bloating or a mild laxative or constipating effect are signs that the bacteria are remodeling, detoxifying and improving the gut environment
Proprietary Fermented Culture-fermented culture medium of fruits, vegetables, mushrooms and seaweeds containing prebiotics, enzymes, bacteriocins and trace amounts of vitamins, minerals and amino acids 0.42 g
Proprietary Organic Acid Blend-citric acid, lactic acid, formic acid, acetic acid 1.27 mg
Proprietary Lactic Acid Bacteria Blend† 900 million CFU
Lactic Acid Bacteria used in fermentation: Bifidobacterium breve ssp. breve, Bifidobacterium infantis ssp. infantis, Bifidobacterium longum, Enterococcus faecalis TH10, Lactobacillus acidophilus, Lactobacillus brevis, Lactobacillus bulgaricus, Lacrobacillus casei, Lactobacillus fermentum, Lactobacillus helveticus ssp. jugurti, Lactobacillus plantarum, Streptococcus thermophilus.
Refrigeration not required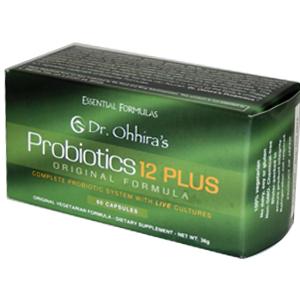 It is pricey. You can get it from here http://www.iherb.com/Dr-Ohhira-s-Essential-Formulas-Inc-Probiotics-12-PLUS-Original-Formula-60-Capsules/3620?at=0
2- The Jarrow Formulas, Jarro-Dophilus EPS, 5 Billion Organisms per Capsule, 120 Veggie Caps is very good and more affordable. This one is "Room Temperature Stable", requires no refrigeration.
It has eight (8) Species with Clinically Documented Strains. The 8 different strains of probiotic bacteria are delivered directly into the small intestines where probiotic bacteria fully exert their beneficial effects. Probiotic bacteria in Jarrow-Dophilus EPS are selected from the following 4 genera: Lactobacillus, Bifidobacteria, Lactococcus and Pedicoccus.
Jarro-Dophilus EPS is a Stable-Dophilus due to its stability at room temperature and enteric coating which protects the probiotic bacteria from stomach acid.
Bifidobacteria longum BB536 (Morinaga strain) has been clinically shown to stimulate immune response and suppress intestinal putrefactive bacteria. L. rhamnosus R0011 is a unique, high producer of polysaccharides that facilitate colonization and stimulate intestinal immune response. L. acidophilus R0052 assists in breaking down lactose (milk sugar) which may improve digestion of dairy products by those individuals who are lactose intolerant. Lactococcus and Pediococcus help reduce spoilage caused by unfriendly bacteria in fermented foods.
Probiotic Bacteria Blend (8 Strains) 5 Billion Organisms ??? g
L. rhamnosus R0011
L. acidophilus R0052
Pediococcus acidilactici R1001
L. casei R0215
B. longum BB536 (Morinaga strain)
L. plantarum R1012
B. breve R0070
Lactococcus lactis ssp. lactis R1058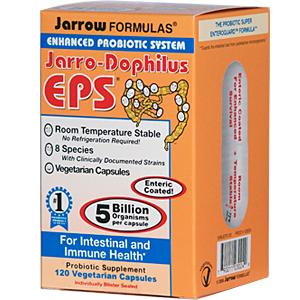 You can get it from here: http://www.iherb.com/Jarrow-Formulas-Jarro-Dophilus-EPS-5-Billion-Organisms-per-Capsule-120-Veggie-Caps/7006?at=0
3- New Chapter, Organics, Probiotic All-Flora, 60 Capsules (Ice)
This one was reported by a few to improve complexion and acne. This one contains ingredients such as the fermented soy, inulin, and apple that probably make it more effective.
This one has nine (9) live probiotic strains delivered in organic whole-food media. Organic Apples and Organic Jerusalem Artichoke Inulin provide prebiotic nourishment to enhance probiotic benefits. A non-Dairy Base.
It requires refrigeration. Contains nine strains of live probiotics cultured together on a non-dairy whole-food medium and then combined with growth-stimulating prebiotic organic apples and organic inulin sourced from organic Jerusalem artichokes. This one includes revered probiotic strains such as Lactobacillus acidophilus, Lactobacillus rhamnosus, and Lactobacillus helveticus, these help support optimal digestive and immune system function. When the culturing of Probiotic All-Flora is complete, the synbiotic-rich whole-food medium and live probiotics are freeze-dried together, a process that preserves their potency until consumed. Once consumed, the cultured whole-food medium and prebiotic whole foods activate the probiotics and enhance their effects. Both are part of the synergistic whole that benefits the entire digestive tract and immune system.
The Proprietary Probiotic Blend contains 35 mg of this: S. thermophilus, L. rhamnosus, B. breve, L. acidophilus, B. infantis, B. longum, L. plantarum, L. salivarius, L. helveticus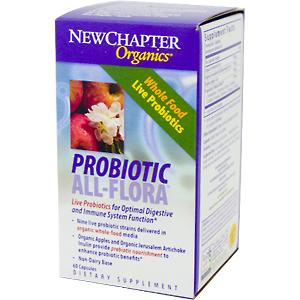 You can get it from here: http://www.iherb.com/New-Chapter-Organics-Probiotic-All-Flora-60-Capsules-Ice/18068?at=0
4 – Nature's Way Primadophilus Bifidus, 90 VCaps
This one contains a 5 billion CFU dose of " True identity bifidobacteria & lactobacilli". True Potency ensures 5 billion CFUs per capsule for the entire shelf life. Does require refrigeration.
This one has four (4) strain formula specifically designed for adults
The 71 mg of proprietary Probiotic Blend – 5 Billion CFU, contains: Lactobacillus rhamnosus, Bifidobacterium longum, Lactobacillus acidophilus, Bifidobacterium breve
In a response to iherb.com the manufacturer said: "Primadophilus can be out of refrigeration for a few days without losing the potency. We add extra cultures to allow for the product to be out of refrigeration for shipping and manufacturing. But for long term storage in order to hold the potency the product should be stored in the refrigerator."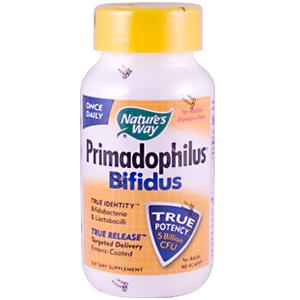 You can get it from here: http://www.iherb.com/Nature-s-Way-Primadophilus-Bifidus-90-VCaps/4892?at=0
.
Other Good Choices:
1- Sedona Labs, iFlora, Multi-Probiotic, New Formula, 60 Veggie Caps
This one contains 16 Strains & 16 Billion Cells (Per capsule at time of manufacture)
It contains 56o mg of the Proprietary Synbiotic Blend containing: Short Chain Fructooligosaccharide (NutraFlora scFOS), Bifidobacterium bifidum, Bifidobacterium breve, Bifidobacterium lactis (infantis), Bifidobacterium lactis, Bifidobacterium longum, Lactobacillus acidophilus, Lactobacillus brevis, Lactobacillus bulgaricus, Lactobacillus casei, Lactobacillus gasseri, Lactobacillus paracasei, Lactobacillus plantarum, Lactobacillus rhamnosus, Lactobacillus salivarius, Lactococcus lactis, Streptococcus thermophilus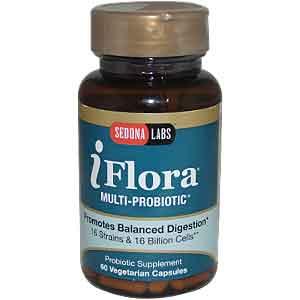 You can find it here: http://www.iherb.com/Sedona-Labs-iFlora-Multi-Probiotic-New-Formula-60-Veggie-Caps/7406?at=0
2- AlignGI
Doesn't produce d-lactate or other harmful substances and has clinical research. It's of human origin, implants well, survives acid, it's resistant and more.
This one is pricy
Align contains Bifantis—Bifidobacterium infantis 35624—a patented probiotic strain.
Probiotic Strain: Bifidobacterium infantis 35624 (Bifantis) is the patented probiotic ingredient in Align that can help build and maintain the body's natural defenses. Proof: Bifantis has been the subject of several clinical studies and has been featured in peer-reviewed journals. Please see Bifantis.com for full details. Packaging: Align contains 1 x 109 (1 billion) CFUs of live bacteria when manufactured, and provides an effective level until the "best by" date on the package. Align capsules come in specially designed blister packs that ensure bacteria remain alive and effective until the date on the box. Quality and Quantity: DNA testing guarantees the purity of Align. The packaging and labeling meet all World Health Organization (WHO) recommendations by clearly stating:
Strain: Bifidobacterium infantis 35624 (Bifantis) Colony-forming units (CFU): 1 x 109 (1 billion) live bacteria
No refrigeration required.
.
Single-Strain Probiotics:
I will discuss these in a future article.
SAVE MONEY: If you are purchasing your supplements online take a look at iHerb.com. Use this coupon code to get $5 off your first order: ZAG620
Categories:
Probiotics
Acidophilus, Antibiotics, Bifidobacterium, Candida, Digestion, GI, IBS, Immune System, Kefir, Lactobacillus, Migraines, Probiotics, Raw Food